Discover Scuba Adventure
If you want to try Scuba diving, but you're not quite ready for the certification course, Discover Scuba Diving will let you try it out to see if you like it. While not an actual scuba certification, during the Discover Scuba experience you'll learn how to use scuba equipment in shallow water and get a quick and easy introduction to what it takes to explore the underwater world.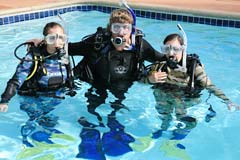 While breathing underwater takes a little getting used to, after a few minutes of awestruck wonder, most participants realize how easy scuba diving really is.



The biggest challenge instructors have with the Discover Scuba Diving program is not coaxing participants into the water, but coaxing them out when the program is over.



Since your Discover Scuba Diving program includes an actual dive in open water, your experience will count toward PADI Scuba Diver or Open Water Diver certification, putting you a step ahead of the game when you decide to go for it.



You can Discover Scuba with us during 2 days of your Molokai vacation.
Day 1 - Watch our introductory video and join our PADI Dive Master in the swimming pool for a 1 hour underwater training session.
Day 2 - We take you on an actual open ocean dive where you'll experience the thrill of your first dive under the close supervision of our PADI Dive Masters.
What You Learn
Learn what wearing scuba equipment feels like and how easy it is to move around underwater while wearing it
Find out what it's like to breathe underwater and learn whether you can be comfortable there
Learn basic skills and safety rules that will carry over to your full scuba certification course when you take the next step
The Scuba Gear You Use


All the equipment you will need is included. You'll use all the basic scuba gear including a mask , snorkel and fins, a buoyancy compensating jacket that also carries your scuba tank, a scuba regulator to breathe from and instruments to monitor depth and air supply. You might also wear a scuba wetsuit or a weight system.


Requirements
You must be at least 10 years old.
Be in "good health."

Price
$275 - Includes all learning material, classroom & pool instruction, and a 1-tank open water ocean dive.

Save time before you arrive on Molokai,
download the PADI Discover Scuba Registration Form


Scuba Diving Certification Course
If you've always wanted to learn how to scuba dive and earn your PADI scuba certification, here's where to start.



The PADI Open Water Diver course is the world's most popular scuba course, and has introduced millions of people to the adventurous diving lifestyle. You can start your scuba certification online today! PADI offers a variety of home-study materials for the Open Water Diver course.



While eLearning is the most convenient option, you may also chose a book and DVD package or a multimedia DVD-ROM.


What You'll Learn
Knowledge Development (online, home study or in a classroom ) to understand basic principles of scuba diving
Confined Water Dives to learn basic scuba skills
Open Water Dives to review your skills and explore!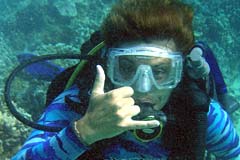 If you've tried diving through a Discover Scuba Diving experience, the skills you learned may be credited towards a portion of the full PADI Open Water Diver course certification.



To enroll in the PADI Open Diver course or Junior Open Water Diver course, you must be 10 years or older (PADI eLearning requires a minimum age of 13 years due to international internet laws.



During the course, you'll make at least five pool dives and four dives at local dive sites under the supervision of your PADI Instructor.


The Scuba Gear You Use


Learn all about your scuba gear with PADI scuba lessons. In the PADI Open Water Diver course, you learn to use basic scuba gear including a dive computer, and standard accessories.


The Learning Materials You Need


PADI's Open Water Diver materials cover what you need to know about basic scuba diving skills, terminology and safety procedures.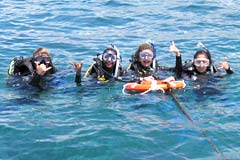 For each concept you'll read a description and watch a video demonstration.



Then you'll jump in the pool to practice these skills with your instructor. Later, as a certified diver, use the course materials as a reference guide for future diving adventures and to review what you learned.




Price
Private - $1200.00 plus tax, Couple - $1600.00 plus tax - Includes all learning material, classroom & pool instruction, your 5 open water dives and certification card.

If you have completed your classroom work, bring the PADI Open Water Referral Form with you to complete your certification on Molokai.